Sewing machines have a variety of available accessories to perform different projects. The zipper foot and buttonhole attachment fit any machine.  However for most attachments, it's important to know if your machine has a high shank, low shank or slanted shank. The shank is the distance from the attachment screw to the bottom of the presser foot.
Your machine will generally come with the general purpose foot and zigzag plate.  The user manual will show the various attachments available and how to use them on your machine.
Below are some of the various attachments that can be used to save time when sewing.
Zipper foot – used to insert zippers, stitch cording or for any seam that is more bulker on side. Allows you to stitch close to the zipper without having the zipper's teeth under the presser foot. Can be used for either side of the needle.
Blind stitch hem/Edging foot – has a vertical plate, is used for edge stitching and blind hemming. Alternative to hemming by hand.
Straight stitch/General/All-purpose foot and plate – used for basting, straight stitching and some decorative stitching. The needle hole in the plate does not allow for any side stitching.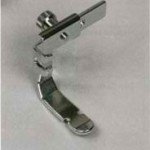 Button/zigzag foot and plate – has a horizontal slot to allow for the swing of the needle. It holds flat buttons in position for attaching with machine zigzag stitch. It has two grooves underneath to guide rows of fabric back and forth leaving a small opening for cutting. Can also be used for general purpose sewing.
Walking/quilting/Even-feed foot – feeds top and bottom lays together so seams start and end evenly and avoid bunching. Use it for vinyl, pile fabrics, bulky knits, or other fabrics that tend to stick, slip or stretch.
Special purpose – grooved bottom to allow for thread build-up in decorative stitches.
Darning foot – used for machine darning and free-style machine embroidery.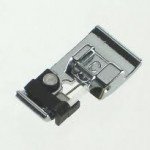 Over edge foot – keeps stitch at full width and prevents curling of flat edges when sewing over edge stitches. Stitches are formed over a wire on the inside edge of the foot.
Brother SA145 Clearview Horizontal Foot
Clear-view foot – allows you to see where you are stitching. Used for bulky fabrics.
Brother SA126 7mm Narrow Hem Foot
Hemming foot – rolls the fabric into a narrow hem and stitches all in one step. Can be used to create a hem on fine fabrics.