Marking tools are used to transfer the pattern symbols onto the fabric to accurately make the garment. It is essential to transfer these symbols for correct fitting and sewing.
Below are some tools used to help transfer the pattern markings onto the fabric.
Tracing wheel – available in a serrated or smooth edge. The serrated edge is used to make a dotted link marking in most fabrics; however it may piece delicate ones. The smooth edge makes a solid line marking and is used for delicate fabrics such as silk and chiffon.
Dressmaker's carbon/tracing paper – used to transfer the tracing wheel's line to the wrong side of the fabric. Select a color close to your fabric, yet visible enough to see.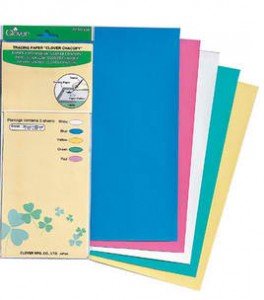 Tailor's chalk – can be used to mark directly onto the fabric. It does not need sharpening like a chalk pencil. Great for dark, heavy fabrics where a traditional water soluble marking pen may not show up.
Chalk pencil – filled with chalk at one end of the pencil and a brush at the other end to remove chalk marks.
Liquid marking pens – used to mark tucks, darts, pleats and pockets. One type disappears after about 48 hours. Another type washes off with water.